Setting up a PI-STAR DMR Hotspot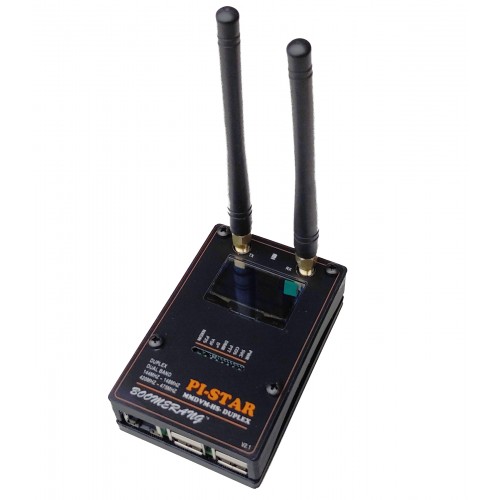 Hot spots are amazing devices that act like little repeaters in your house. Though I have a DMR capable "real" repeater, I wanted more flexibility in regard to talk groups (TGs) on the Brandmeister network. So I got me a hot spot. Here's how I circumvented a few problems:
This blog post is not about how to get a hot spot. It's also not a general description what you can with it or how to get it onto your Raspberry PI. The basic installation for the unit can be found here:

https://cqradios.com/documents/Boomerang_UserManual.pdf
But – there are a few problems and settings I had to resolve in order to get the hot spot going.
First problem: It didn't connect to Brandmeister. Turns out that the unit "forgets" the BM hot spot password every time you update the settings page. Just make sure you re-enter the password every time you change settings on the config page.

Second problem: I wasn't able to contact the hot spot with my radio. The frequencies in the config page are the settings for the hot spot. If it says RX: 439.0000 than the radio must transmit on that frequency. It took me a while to figure that one out. But it does sound logical, right?
Now that everything was hunky-dory, I added a number of static TGs . That's what I wanted in the first place. But if you add a high frequency talk group, how to disconnect again? Especially on those TGs that have a lot of traffic. Actually – you can't. If it is a static TG – you will get everything – no time out. In order for you to get out of there, you need to go to your Brandmeister login, drop the static TG and then drop the QSO on the respective time slots. So you may want to not have high volume TGs as "static".
But how can you drop a dynamic TG directly from your hot spot? The comments on the help sites were not useful – they described something like a "Drop QSO" button in the admin interface – which I couldn't find. The solution: Generate an V2 API key in your Brandmeister "Profile Settings → API keys". Click your call-sign to get to it.
Generate an API key and carefully copy the long string. Go to "Configuration → Expert", click "BM API" and paste the API keys into the field. Then click "Apply Changes". This will magically add a few options to your hot spot's admin interface allowing you to modify static routes and to drop QSOs on dynamic routes.
73's and enjoy DMR.
Michaela Merz is an entrepreneur and first generation hacker. Her career started even before the Internet was available. She invented and developed a number of technologies now considered to be standard in modern web-environments. She is a certified New Mexico Search & Rescue volunteers, a Wilderness First Responder and an FAA Part 107 certified UAS pilot and a licensed ham .