Secumundo: Talking about a revolution
Hi y'all, and welcome to my first blog on my new blog site. This blog is about Secumundo, my upcoming new service that is about to revolutionize the word – at least that is my intention. And every revolution starts with the very first step.
You say you want a revolution
Well, you know
We all want to change the world
You tell me that it's evolution
Well, you know
We all want to change the world.

Let me tell you a little bit about Secu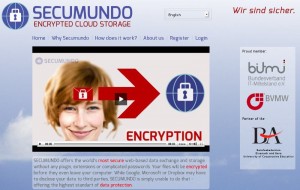 mundo. As the name implies, it's all about "Secu" as in "security" and "mundo", as in world. We all live in a digital environment that becomes more and more threatened by well and not so well meaning people. There a thousands of reasons why bad folks, privateers, corporations and governments are interested in (your) data.
And we're getting used to it, because we want free stuff, we ain't got anything to hide, security is way too complicated and we can't change it anyway.
Secumundo has the power to change all this. It is a service, that empowers you to store, exchange, share or export arbitrary data with or to others. So far, that's nothing new. But read on. Secumundo is a web based service, it doesn't need any plugins, no additional software, no extensions – nothing but a modern state-of-the-art browser (like Google Chrome or Mozilla Firefox (Version 20 or better). Ok. So far, that's still nothing out of the ordinary. But now comes the "secu" part. Because all Secumundo operations are completely end-to-end encrypted. Even sharing data with others wont break that. You won't need to exchange passwords, you don't need to talk, chat or email the receiver, you don't even have to know him. Whatever you do – uploading data for yourself or others, sharing data with friends. co-workers or strangers, everything will always be protected with strong industry-standard AES 256bit encryption. In other words: Nobody – except you and the intended receiver – will ever know what kind of data is being exchanged, uploaded and stored.
And this includes us.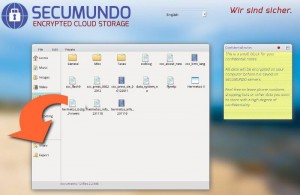 Secumundo is a web-based services that provides strong end-to-end encrypted file storage, exchange or export right within you browser. No software, plugins or extensions required. No passwords to exchange. Simply drag and drop any file or files from your desktop into the Secumundo folder and you're done.
We shouldn't abandon or privacy, just because others want us to. We shouldn't be forced to reveal our data, just because we use cloud services.
We should however, take the control back. It's our data. And nobody should have the right to control it, to eavesdrop on us, to record what we share and with whom we choose to share it. That's why I created Secumundo. It's all about freedom and, well, a little revolution.